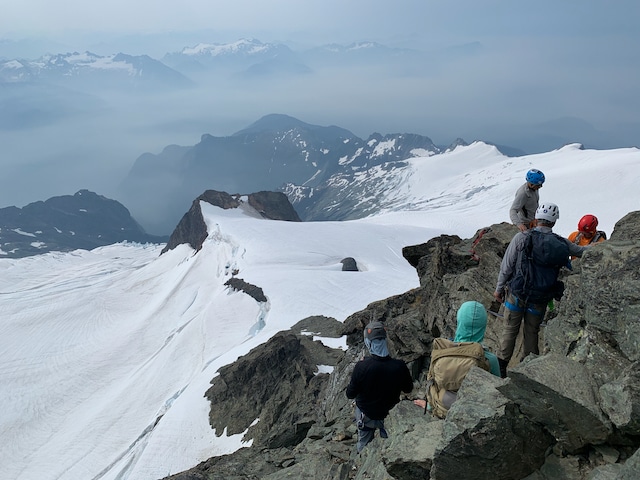 I recently returned from a highly enjoyable and successful summit of Mt. Shuksan in the North Cascades National Park, north of Seattle. It was a three day trip that involved hiking in to set up camp on the Sulphide Glacier. On the second day we traveled across the glacier and then climbed the summit pyramid to reach the peak. Coordinating a group of eight climbers took exceptional leadership. Here are five team leadership skills exhibited by our team leader that were essential to our success.
Set clear expectations up front
Our team leader sent out a succinct and clear set of expectations before the climb, reviewing them again at the start of the trip.  We also began each day with a discussion of the day's expectations.  These expectations made it clear what was and was not negotiable.  As a team member, it removed a lot of potential ambiguity about how I needed to show up.
Set a plan and be willing to change it
Mountains are unpredictable which requires flexibility.  It might seem easier to figure it out as you go along, but having a clear plan provides a baseline.  From here it is much easier to figure out if a change is required.  An easy change was waking up on our last day to driving rain and wind.  We accelerated our plan to pack up camp and leave.  We also followed a plan at the start of our trip to pack our food in bear proof containers.  As we tried to execute the plan, the leader realized it wasn't working and changed the plan.  Knowing when to change and when to stick is a judgment and a critical team leader skill.
Check performance
Having a plan is a good start, but it is even more important to check performance against it.  For us this included pace of travel across the glacier.  We traveled as two rope teams.  Each person connected to the next in case anyone fell into a crevasse.  This type of travel is a coordination challenge and it would have been to simple to accept the pace of each team.  Instead, the team leader questioned our pace and what was preventing us from going faster.  It drove us to coordinate better and improve our performance.
Make tough decisions
The team leader's primary responsibility is to get the team back from the climb safely. One of the toughest decisions a climb team leader has to make is requiring a team member to stay back in camp and not join the summit climb. Our team leader did this clearly and respectfully, following the expectations they initially set out. It will never be unanimously welcomed, but when done well, the team will accept the decision.
Celebrate!
This was a successful climb and the celebration came easily.  At the same time, success was not solely predicated on reaching the summit and returning safely.  The team leader celebrated positive examples of team behavior.  How we each showed up was critical to creating a positive experience regardless of the overall outcome.  The leader also sought feedback how they can improve in future.  An important and sometimes forgotten part of a successful outcome.
This was a group of people who didn't know each other and over the course of three days came together as a high performing team. Great teams don't just happen. They form through the team leader's ability to create a set of shared expectations and behaviors that bring together a group of people to achieve a common goal.
How does your team compare?  What kind of team leader are you?