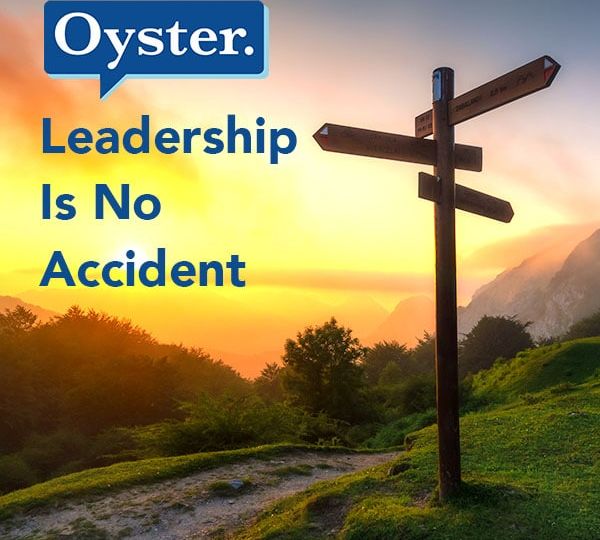 This has been a completely unpredictable year, and one most of us will want to put behind us.  That said, there have also been some bright spots.  One for me has been the Oyster podcast, Leadership Is No Accident.  I started a podcast class in February, and I was not really sure what it would lead to.  The idea behind it was to inspire people to lead by hearing about the stories behind the leaders who had accomplished some amazing things.  In my role as an executive coach, I am privileged to see behind the curtain and understand the stories behind the leaders.  I wanted to let others gain that same perspective.  To see how other leaders have succeeded, even when it looked like they had no chance.
The first episode was published at the end of May, and we've just published the first two episodes of Season 2.  Looking back, I am so glad I decided to try this out.  I have been able to highlight the stories behind the leaders, but they've also taught me so much.  This was a complete surprise and each interview has turned into a journey of discovery.
As we leave the year, I hope you take the time to listen to some of the episodes below.  In each one we uncover some amazing stories of resilience, innovation, empathy, suffering, you name it.  I don't have a favorite, there is something to be learned in every one of them.  And we have more to follow over the holiday and in January, stay tuned.
The Stories Behind the Leaders
| | | |
| --- | --- | --- |
| Guest | Leadership Role | Highlights |
| Liz Dolan | Co-Host Satellite Sisters podcast | How a no fear, can do attitude, led to leading global marketing at Nike and then founding one of the most well loved podcasts, the Satellite Sisters. |
| David Rae | Curator TEDxPortland & Co-Founder 503 Creative | The importance of feedback and what it takes to present like a TEDx speaker. |
| Bobby Evans | Former GM, San Francisco Giants | What it takes to sustain a World Series winning team. |
| Mary Beth Martin | VP, Women's and Children's Services, Doernbecher Children's Hospital | Taking more risks and making less excuses, leading a major healthcare organization through the pandemic. |
| Daniel Puder | Founder and CEO of My Life My Power Academy | Transitioning from world champion MMA fighter to opening schools for under-privileged kids. |
| Barb Duffy | President, Lane Powell PC | Leading the cultural transformation of a very successful legal firm. |
| Ken Tomita | CEO and Founder – Grovemade | The importance of transparency, learned the hard way with his employees. |
| Franz Maruna | CEO and Founder – Portland Labs | Adversity is the mother of innovation; how Franz nearly went out of business and ended up creating a wildly successful software platform. |
| Anna Chaud | Former CEO and Founder Gardenbar | The start up founder who had to let go and sell her business…just in time. |
| Kevin Adler | Co-Founder, Miracle Messages | From a single person with a big care to leading an army of volunteers who are addressing homelessness one reunion and relationship at a time. |
| Kate Delhagen | Founder, Oregon Sports Angels | How professional sports analogies translate to business leadership. |
| Jeremy Pelley | Co-Founder – OMFGCO | Why strong company values are the secret sauce of success. |
This is my last Leadership Insights post of the year.  I wish you and your families a fabulous holiday!  Here's to a healthy and successful 2021.
Andy